Product features
The stainless steel cold air gun is a cooling equipment which is suitable for the factory application by the eddy current cooling principle
Only compressed air as power source,then the ambient temperature of 75℃ can be reduced to a cooling air flow (-38℃) ,it is as very portable cold air source.
1.It is very portable air source, widely used in mechanical drying or refrigeration process etc. The utility model can provide cooling application in the industrial environment with bad environment.
2 cold air gun with compressed air, can reduce the compressed air temperature into -38℃, and produce low temperature air flow
3.It is clean and easily installed, it's a permanent magnet base and flexible bending tube can convey to any position of the required cooling flow!
4 the cold air gun is made of very strong stainless steel. It is designed and processed by computer. In the use of coolant, water or other corrosive substances in the environment, will not be corroded rust. Just align the cooling object, you can work steadily, instant on / off, maintenance free, no moving parts, service life of up to ten years.
Product animation display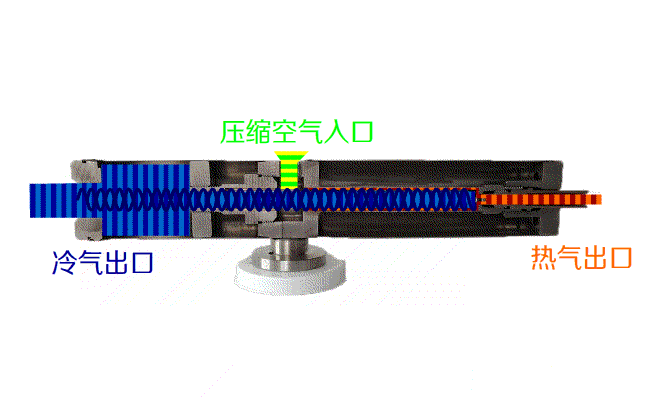 Performance parameter

Application of Air conditioner
1, no coolant, Zero chemical loss or residue.
2, cooling of solder joints, hot metal, hot adhesive
3. electronic components, circuit boards and temperature regulators for cooling heat detection.
4.cooling of hot fitting parts.
5, cooling hot mold, ultrasonic device.
6, cooling sewing needle in order to prevent broken line, to avoid heat, resulting in synthetic wire fracture.
7 to improve the service life of the tool, improve the rate of finished product ,improve the surface finish , reduce the difference
8 enhance the workpiece feed speed and improve the quality of the workpiece.
9 no coolant consumption, to avoid the pollution caused by coolant, stimulate the skin, dirty walls.
10 Air conditioner drying, used in metal, composite materials, plastics, rubber and wood processing industry.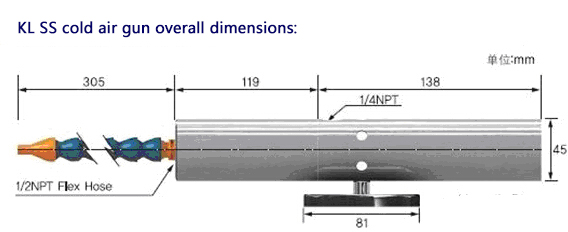 | | | | | | |
| --- | --- | --- | --- | --- | --- |
| Model | Product description | Material | Air pressure | Cooling air flow | Noise |
| KL60055 | Curved tube + magnetic base | Stainless steel | 0.8mpa | ( -38°C) | 60DBA |
Typical application cases
Plastics processing - Mechanical - metal processing - band saw cutting - grinding of textile - sewing / embroidery - food processing - food products cooling-Cooling die - mold cooling of optical fiber coloring system