Pipeline vibrator
Pipeline is an ancient and young way of conveying in china. As early as the third Century BC, China has created the use of bamboo connected to the pipeline to transport water , can be said to be the beginning of world pipeline transportation.
Pipeline it has a fatal flaw, is blocked.. FP-U series pneumatic vibrator can effectively solve the pipeline blockage problem , to achieve the goal of safe delivery of drag reduction.

Product features
FP-U series pneumatic pipe vibrator working temperature is -20 ℃ to 100 ℃,it is driven by the dry compressed air, so it needs no lubrication,the vibrator installation of pipelines by stainless steel straps fixed,it can be used for shaking-out the material falling on the inner surface of the pipeline ,these include, e.g., silos, oil pipes, water pipes, filter outlets, reaction tanks and pipelines.FP-U series pneumatic pipe vibrator is also suitable for explosive environment.The impact frequency can be adjusted from 45 to 120 times per second. Vibration force can be set .
The product animation demo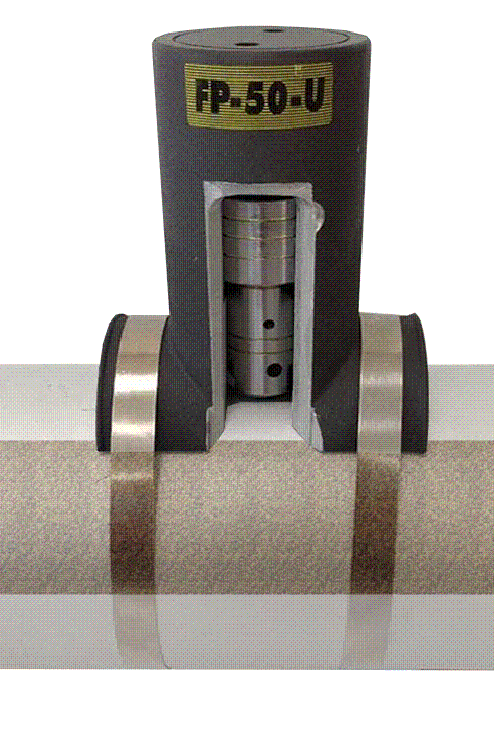 Performance parameter
| | | | | |
| --- | --- | --- | --- | --- |
| Model | Impact times(NZ)/second | Force(N.M) | Air consumption L/Min | Applicable pipe diameter |
| GT-50-U | 45~120 | 15~1000 | 0.5~1.1 | 60~200 |
| GT-65-U | 35~88 | 25~2200 | 1.2~1.7 | 200~300 |
| GT-95-U | 25~60 | 35~4500 | 2.2~3.3 | 220~500 |